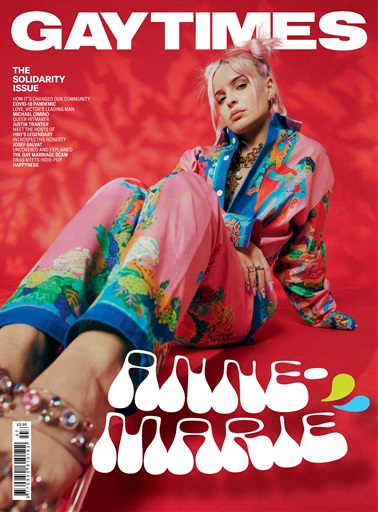 You are currently viewing the United Kingdom version of the site.
Would you like to switch to your local site?

Instant Access when you subscribe
Enjoy on your mobile, tablet or computer
Digital subscriptions include the latest issue and all regular issues released during your subscription. Your chosen term will automatically renew unless auto-renew is cancelled in your subscription area 24 hours before the end of the current subscription.
4 issues per yearWrite ReviewFrom £6.25 per issue
Gay Times is the magazine that amplifies the voices of the LGBTQ community. Each month, Gay Times magazine delivers you the latest celebrity interviews and high-quality photo shoots of the most influential figures of the moment. You'll also find plenty of articles to keep you up-to-date on issues affecting the LGBTQ community with hard-hitting comment and opinion.
A Gay Times digital magazine subscription offers a new issue every month delivered straight to your fingertips – you can access it from wherever you are and always get the latest on current affairs! Each issue focuses on the latest and most important issues within the community, whilst also providing you with beautiful photography.
Join the LGBTQ community with a digital subscription to Gay Times magazine today! 
WAYS TO READ Gay Times Magazine
Single Digital Issue Issue 507
£7.99 / issue
Annual Digital Subscription £24.99 billed annually
Save
22%
£6.25 / issue
COMPLETE YOUR COLLECTION AND SAVE
Please note that the calculations are for illustration purposes only. Savings are calculated on the comparable purchase of single issues over an annualised subscription period and can vary from advertised amounts. Complete your collection savings are based on the RRP of the latest issue.
Looking for Gay Times in print?
Unfortunately pocketmags.com does not sell print copies of Gay Times, but all is not lost. Our partner atmagazine.co.uksells print subscriptions at the best prices online.
Gay Times  | &nbspIssue 507  
Since 1974, Gay Times magazine has provided the LGBTQ community with updates and information on the latest issues, news and events. It's consistently filled with current affairs and articles from those embracing and supporting the community, along with photo shoots featuring some of the hottest celebs around.
Throughout its history, Gay Times magazine has been the platform to support and promote those who are still fighting for their rights and have allowed them space to voice their troubles. Whether you're looking to stay up-to-date, want to learn more about who is featured on the magazine cover or just like to support the LGBTQ community, Gay Times provides it all, every month.
Enjoy a Gay Times digital magazine subscription and get all the latest exclusives wherever you are, on whatever device you have handy! 
A Gay Times digital magazine subscription is a must-have for anyone in the LGBTQ community:
The latest LGBTQ news
Articles on current affairs by hand-picked writers
Beautiful photo shoots featuring your favourite icons
Delivered directly to your device every month
A discount off the RRP of your magazine
You'll receive 4 issues during a 1 year Gay Times magazine subscription.
Note: Digital editions do not include the covermount items or supplements you would find with printed copies.
Your purchase here at Pocketmags.com can be read on any of the following platforms.
You can read here on the website or download the app for your platform, just remember to login with your Pocketmags username and password.
Our magazine apps run on all iPad and iPhone devices running iOS 11.0 or above, Android should be: Android 4.4 or above , Fire Tablet (Gen 3) or above, and PC and Macs with a html5 compatible browser.
However for iOS we recommend an iPad Air/iPhone 5s or better for performance and stability. Earlier models with lower processor and RAM specifications may experience slower page rendering and occasional app crashes which are outside of our control.
SUBSCRIBER
Gay Times
really good read and design Reviewed 27 March 2020
SUBSCRIBER
Classic quality
Always delivers quality Reviewed 26 July 2019
SUBSCRIBER
Timeless classic
Highly informative Reviewed 24 July 2019
SUBSCRIBER
Classic magazine
One of the best available Reviewed 20 July 2019
SUBSCRIBER
Always a classic
Great read for those in the United Kingdom and elsewhere Reviewed 16 July 2019
Articles in this issue
Below is a selection of articles in Gay Times Issue 507 .
A note from us. It goes without saying that this isn't the summer issue I thought we'd be putting out this year. When I first started speaking with Anne-Marie at the start of 2020 about shooting her first-ever GAY T…
the love list. JESSIE WARE: WHAT'S YOUR PLEASURE? (out 19 June) Are you ready to feel the fantasy? That's what Jessie Ware promises with her highly anticipated fourth album, What's Your Pleasure? Through a t…
Why Apple's 2020 iPad Pro as the MAGIC TOUCH. Words Lewis Corner It's been a decade since Steve Jobs unveiled Apple's boundary-pushing new device, simply known as the Apple iPad, to the world in January 2010. Tablet technology was still in its i…
MEZ The Music That Made Me. Words Daniel Megarry At just 21 years old, Los Angeles-based MEZ is quickly becoming one of the coolest DJs on the queer scene. He regularly plays underground parties, bringing his slew of musical in…
ELEVATE. Supporting emerging queer voices is more vital than ever. Words Lewis Corner Music is the ultimate form of escapism. Very little else takes you into worlds of your own in the same way. For queer peopl…
HOW COVID-19 WILL CHANGE OUR COMMUNITY FOREVER. Words Alim Kheraj Illustration Jake Hawkins In March of this year, Matthew Walton, the chair of Pride in Hull, had to make the decision to cancel this year's event. Like many event organise…
Other Links
Help
Gifting
How it Works
Contact Us
Publishers
The Company
© Copyright 2011 – 2020 | Jellyfish Connect Ltd

Source