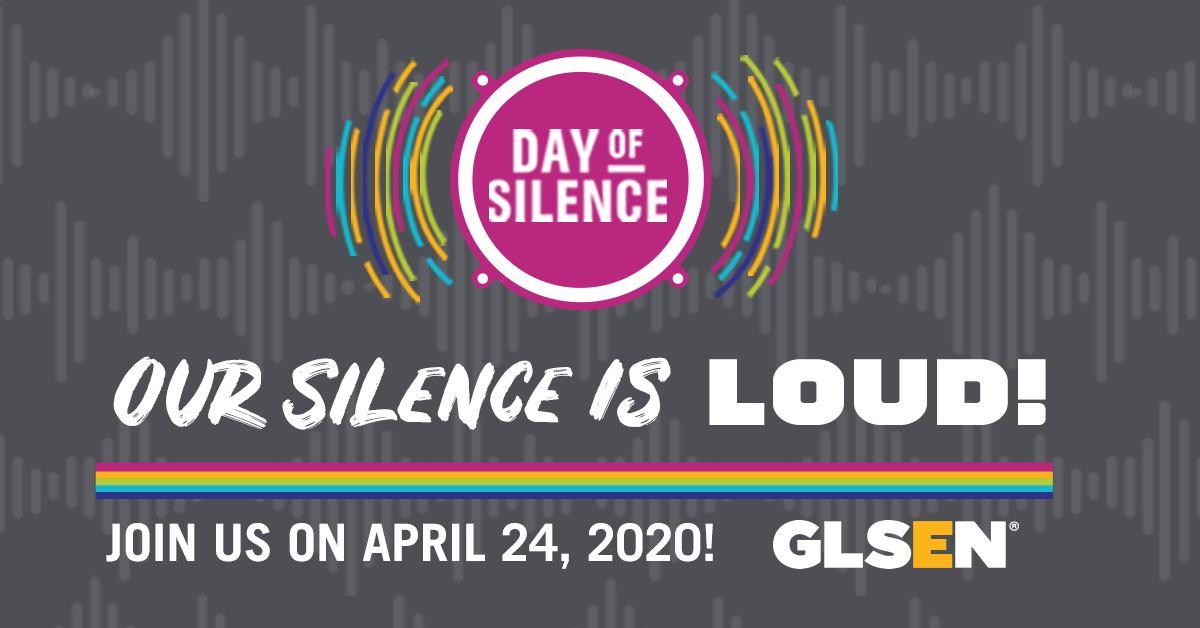 The GLSEN Day of Silence is a national student-led demonstration where LGBTQ students and allies  all around the country—and the world—take a vow of silence to protest the harmful effects of harassment and discrimination of LGBTQ people in schools.
Started in the mid 90's by two college students, the Day of Silence has expanded to reach hundreds of thousands of students each year. Every April, students go through the school day without speaking, ending the day with Breaking the Silence rallies and events to share their experiences during the protest and bring attention to ways their schools and communities can become more inclusive.
Image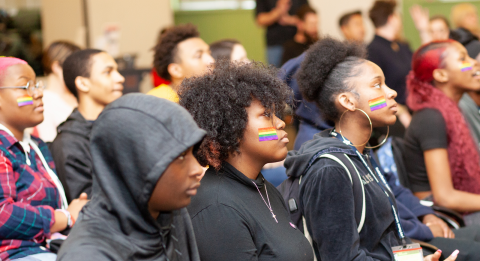 Day of Silence: April 23, 2021
Register to receive updates to prepare lessons and activities leading up to the Day of Silence.
We'll also keep you informed with ongoing monthly updates, free resources, invitations to local youth summits, and more!
How to Participate
Image

Register
Register to get the latest updates on Day of Silence resources! And don't forget to share on social media about GLSEN's Day of Silence, encouraging students and educators to register. You can also contact students and educators in your network to get them involved!
Image

Plan Your Silence
Use this planning guide to organize your Virtual Day of Silence event. For general tips on planning virtual events, click here. 
Image

Join the Street Team
If you're a student and you'd like to do more to spread the word in your community, apply to join the Street Team!
Image

Support Silence
Support students and educators in their planned activities. Take a vow of silence yourself if you can! Whether or not you can take a vow of silence, consider also making a gift to GLSEN to help us continue our work creating LGBTQ-inclusive schools.
Image

Break the Silence
On Day of Silence, after taking a vow of silence, break the silence with a virtual rally or assembly to build momentum and show your commitment to making your school more LGBTQ-inclusive. And join GLSEN national online at 5:30pm ET for the virtual Breaking the Silence rally!
Additional Resource Guides
Image
Read the 2020 Day of Silence Zine
Check out this year's zine, created by members of GLSEN's National Student Council!
Day of Silence Lessons and Activities
Program
Day of Silence
Type
Student Action Resources
Program
Day of Silence
Type
Lesson Plans
Program
Day of Silence
Type
Student Action Resources
See all Lessons and Activities
Social Media Graphics
Image

Day of Silence Legal Help
If you receive pushback from your school for participating in GLSEN's Day of Silence, GLSEN and Lambda Legal may be able to help! Fill out this form to tell us about what's going on. Once you have completed this form, someone from Lambda Legal's team will review your report and reach out to support you.
Endorsers
These organizations are strong supporters of Day of Silence! If your local, state, or national organization is interested in participating, sign up to endorse GLSEN's programs.
Advocates for Youth
American Civil Liberties Union (ACLU) LGBT & AIDS Project
American Civil Liberties Union (ACLU) of Eastern Missouri
Athlete Ally
Brooklyn Community Pride Center
Buckeye Region Anti-Violence Organization (BRAVO)
CAMBAs Project Accept LGBTQ Youth (ALY)
CenterLink: The Community of LGBT Centers
Civil Rights Memorial Center
El Paso Safe Schools Texas
Empire State Pride Agenda
Face to Face Health and Counseling Service
Familia es Familia
FIERCE (NYC)
Frameline
Futures Without Violence
Gay Youth Milwaukee
Gay-Straight Alliance (GSA) Network
Good As You
GroundSpark
It Gets Better Project
Lambda Legal
Lesbian, Gay, Bisexual & Transgender Community Center (NYC)
NAASP
National Association for Education of Young Children
National Center for Lesbian Rights
National Women's Coalition Against Violence & Exploitation (NWCAVE)
National Runaway Switchboard
NOH8 Campaign
Not In Our Town
Outsports.com
OutFront Minnesota
PACER's National Bullying Prevention Center
PFLAG National
Progressive Leadership Alliance of Nevada (PLAN)
Point Foundation
Rainbow Alley – GLBT Community Center of Colorado
SADD
Safe Schools Action Network
Safe Schools South Florida
STOMP Out Bullying
STOPIt
Straight But Not Narrow
The LGBT Youth Space
Third Level Crisis Center
The Trevor Project
Time Out Youth Center
World Without Hate